REGALO FAMA is the business Association of Manufacturers and Wholesale Retailers of Gift Items.
The Association was established more than 27 years ago due to an initiative of entrepreneurs from the gift industry and related sectors to come together and create the REGALO FAMA trade fair.
Nowadays, this fair is held biannually (September and January) under the name of INTERGIFT at the Juan Carlos I Trade Fair Park.
Our principal objective is to look after the professional interests of our members to enable the expansion and marketing of their products in the appropriate financial sectors.
We aim to improve competitiveness among companies within the industry, provide relevant services and advise them of tools that can support their growth.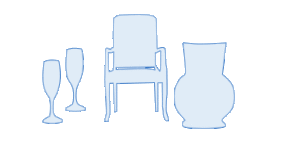 We currently find ourselves in a new stage in which we are developing numerous activities for the benefit of our members.
Our services are aimed towards manufacturers and/or wholesalers, whether whether importers, distributors, product transformers, designers, distribution agencies with or without brand names, of personal or domestic objects made of glass, porcelain, china, marble, shell, metal, stone, wood, leather etc, other traditional crafts products and gift items in general.
For further information, please visit our bylaws.